Actualités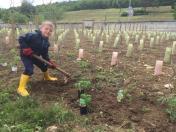 No Jedi here. We are talking about the plant material and its genetic patrimony.
Today, the vinegrower who has a very old vine wonders what to do.
If he unroots that vineyard, what will he replant then?
The nurseryman who graft the american root system with the grape variety has not a lot of choice : there are 4 or 5 different clones of pinot noir, and they were selected in the 70's, early 80's. That period was not the best in terms of vision for the future, and the climate change also modify the profile of what we are looking for today.
The answer is in fact in the vineyards! We have to select in these old vines ( before the 60's), the best individuals, to get a various selection. We are the last generation of growers who have the opportunity to do this long and meticulous work, but it worth it!
On the picture below, we have a little nursery of our own selection, used to replant our old vineyards. Baptiste cultivating the soil, this selection is for him...
Be the Force with the massale selection!
English

Another cultural way, or adapting for the climat change, we have decided to get some grass in the middle of our vine rows.
If some other wine regions usually do so, it's more difficult in Burgundy with the high density planting.
We use clover legume and birdsfoot, to give the most microbian life as possible and also do not get in competition with the vine.
The benefits are so important that we ask ourself why we haven't done this before! There is less erosion, and the heat on the ground is less important for the grapes.
English

If the pressing process for the white wines is really important, why would it be different for the reds?
We have invested into a new vertical press system for our red wines, and it maybe go against conventional wisdom.
For the white wine production, we have a pneumatic press wich takes a long time : 2 hours to process to get a good skin contact, and the "open" cylinder cage allows an oxidation of the uninteresting juices.
Concerning the reds, it's the opposite! Pressed at the end of the fermentation, so with warm temperature and alcohol, the vertical sytem needs to be air protected, and very gentled. The modern technology on the old vertical sytem from the Cistercian monks, give a pressing cycle in 30 minutes only to get clear juices.
The blend with the free run wine is then done.
English
Pages